Set Sail out of Redondo Beach on the Body Glove Yacht Disappearance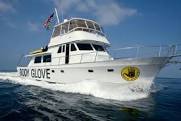 Date: Saturday, October 8, 4 pm – 7 pm
Hosts: Kim Bixler '91 & Tim Bixler (LAW '93)
Donation: $150 per person
Limit: 18 guests
Enjoy a three-hour cruise on the 70-foot yacht Disappearance. Randy Meistrell, son of the late Body Glove founder Bob Meistrell, will serve as our captain. We won't be seeing Gilligan's Island, but we will cruise the South Bay, departing from King Harbor in Redondo Beach, taking in the harbor lights, oceanfront properties and stunning sunset. Last year we saw whales, dolphins and seals during our cruise. If the weather is poor, we will be enjoying our dinner and wine onboard the yacht in the harbor. Dinner catered by Tin Roof Bistro (Mike Simms '00). Games and merriment will be on the agenda.
Location: Redondo Beach. Parking near the Portofino Hotel - 260 Portofino Way, Redondo Beach, CA 90277
Parking: Typically there is free parking by the Portofino (or left of the parking booth). If you have a problem please tell the booth operator you will be at a charity event on the Body Glove Yacht. There is also street parking and a lot. Uber/taxi - ideal options too.
More info: Casual attire. No high heels (there will be drinking and waves). Bring a sweater.
--------
MORE ABOUT THE CCLA SCHOLARSHIP DINNER PROGRAM
How can you simultaneously have a wonderful meal, meet new Cornellians and help provide much-needed scholarships for deserving Los Angeles Cornell students? The Club's annual series of Scholarship Dinners & Events offers you a chance to have a great time while benefiting CCLA's Scholarship Endowment. This year's dining and event options can't miss!
From September through Thanksgiving, generous Cornell hosts open their homes, tables and other interesting venues to other scholarship-supporting Cornellians and friends, with 100 percent of all donations going to the Endowment. As veteran attendees know, Scholarship Dinners are a win-win-win deal for hosts, guests and the Club. Many choose to go to more than one event; a few years ago one member attended six!
In place since 1996, the CCLA Endowment now stands above $400,000. Out of this total, this year we are providing $30,000 in scholarship awards. The club is continuing to grow the Endowment through the Scholarship Dinner program and other fund-raising.
Your tax adviser can explain how your Dinner costs may be deductible. If your schedule prevents you from attending a Dinner this year, please consider making a donation in lieu of attending. We hope to see you at one of our events!
Please check http://www.cornellclubla.com/events.html for a full list of Scholarship Events. New events will be added throughout the season.