CCLA's Successful 2017 Scholarship Fundraising Dinners: A Report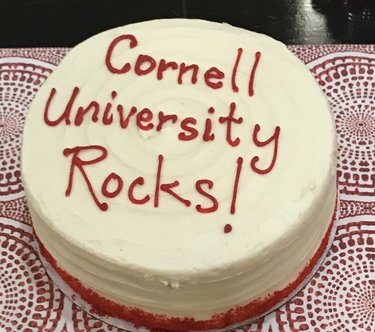 Thanks to so many of you, we are happy to report that our 2017 Scholarship Dinner Program was a great success. We held 16 Scholarship Dinners and fed several hundred supportive Cornellians and guests. One hundred percent of the donations -- $22,585 -- has gone directly into the CCLA Scholarship Endowment. This amount improves on our 2016 total of $18,210. This year the CCLA Endowment has contributed $50,000 to Cornell to fund scholarships for local Cornell students.
This scale of giving is made possible by our generous event hosts and those who came to dinners they sponsored. Event hosts in many cases opened their homes and in all cases worked hard to make their events entertaining and memorable. Attendees enjoyed lavish meals, sometimes spectacular entertainment and always good fellowship, proving once again that there are no alumni like Cornell alumni. See photos below!
Here are our 2017 Hosts:
Deborah Arrindell and Karen Stetler
Helen Bendix and John Kronstadt
Tanya and Alex Bentley
Neil and Karin Chafetz + Chuck and Lisa Judge
Siavash Dejgosha and Christine Lam
Greg Dollarhyde
Chris and Jennifer Fenton
West Hooker-Poletti
Steven Oh
Ellen Perlmutter and Ed Jones + Jackson Kalb
Pam and Frank Petrigliano + Lucie Ayres + William Robertson
Corey and Dia Redmond
Howard Rodman and Mary Beth Heffernan
Richard and Elizabeth Stearns
Narcissa, Katrina and Kelvin Vanderlip
Jordan Wallens, Donald Wallens, Pete Wilhelm and Tara Roth
--------------------------------------------
--Nancy and Bart Mills and Joy Higa
2017 Scholarship Event Chairs