Ryan Larkin '14 named a finalist in directing competition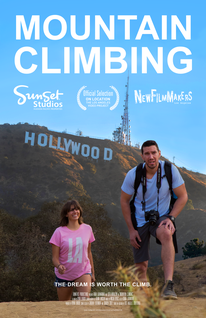 Cornell alumnus Ryan Larkin '14 has been named a finalist in the prestigious On Locationdirecting competition from NewFilmmakers Los Angeles. On Location: The Los Angeles Video Project is a community outreach multimedia program that celebrates and enlists local filmmakers to share "their LA:" an insider perspective into the city and its neighborhoods. This is the same competition that renowned director and Cornell alumna Varda Bar-Kar won in its inaugural year.
Ryan's short film Mountain Climbing explores his relationship with Los Angeles by depicting the city as a hyperactive friend leading him up a steep mountain trail. Ryan, played in the film by Seth Markzon (Sleight, Sand Angels), struggles against ninjas, earthquakes, and iron shackles as he attempts to reach his goal. Meanwhile Los Angeles, hilariously personified by Cornell alumna Erika Shankman '14, disregards all obstacles and plows forward, stopping only to yell encouragement over her shoulder.
Mountain Climbing is set to premiere at the historic Sunset Las Palmas Studios in Hollywood on October 6th. The event will include several VIP guests in the film industry as well as a catered reception and after party. Tickets and additional information are available at: