Successful Former Interns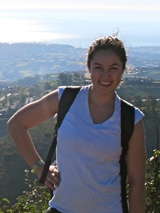 Emily Bloom '10
Flame Artist, Artjail - NY
Interned 2010 with Warehouse 13
I moved to Hollywood a week after graduating to take a CiH post-production internship with Warehouse 13 (Syfy Channel) at Universal Studios. During my time there I was exposed to a small visual effects house of another Syfy show on the Universal lot. After I discovered that field, my career path took an immediate turn; I have been working in visual effects ever since.
My first position was at a small boutique-sized company that did visual effects for music videos. After acquiring basic skills, such as rotoscoping and beauty clean-up, I moved to a smaller company, where I began learning Flame, a high-end compositing program. I was rarely paid for the work I did there, so my finances were largely funded by waiting tables at night; but, it was an opportunity to learn. Once I had enough work to compile a demo reel, I was able to land a full time position with Brewster Parsons, a successful commercial post house in Venice.
I learned a lot there and I loved my coworkers but the East Coast was calling my name. During the summer of 2013, I packed my bags and headed to NYC where I began freelancing and eventually working full time for The Mill. Now I'm training under some of the world's most talented artists while enjoying close proximity to my family.
I wouldn't be here without the opportunity CiH offered me and their continued support and sense of community. Cornell in Hollywood gave me a reason to move 3,000 miles from home and jump right in to this intense industry. Knowing only two people in LA before graduation the move seemed intimidating; but CiH eased my transition and provided me with a sense of support and community. I'm excited for a
ny student who also decides to begin his or her career path through Cornell in Hollywood.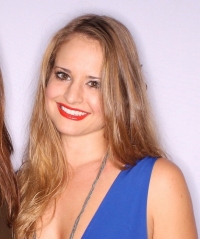 Hannah Bombelles '12
Writer/Producer, Special Order - Los Angeles
Interned 2011 with Josh Greenbaum
Hannah is a writer and producer, specializing in documentary filmmaking. After graduating from Cornell University, she began her career as a coordinator on the Award-winning documentary THE SHORT GAME, which won the 2013 SXSW Film Festival Audience Award and was later picked up as Netflix's first feature documentary acquisition. She then went on to work as production manager on a 10-episode original documentary series for Hulu entitled BEHIND THE MASK, which was nominated for a 2014 Emmy, making it Hulu's first ever Emmy nomination.
In 2013, she joined Delirio films as an associate producer, where she had the pleasure of working on several award-winning films and branded content campaigns, including: the feature film CAN YOU DIG THIS (winner: Muse Award - 2015 Los Angeles Film Festival) & executive produced by John Legend; THE GREEN PRINCE (winner: Best Documentary - 2014 Sundance Film Festival); Alma Har'el's second feature documentary, LOVETRUE (world premiere: 2016 Tribeca Film Festival); THE CLASSIC (world premiere: 2017 Los Angeles Film Festival); and the Hulu Original documentary BECOMING BOND (winner: Audience Award - 2017 SXSW Film Festival).
She joined Special Order as a producer in 2016, where she writes and produces branded and commercial content for a variety of clients, as well as social impact films for the United Nations and International Red Cross.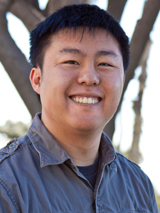 Will Chen '09
Associate Producer, Mammoth Vision
Interned 2008 with Threshold Animation
In the summer of 2008, with the help of my parents, I had the good fortune of participating in the Cornell in Hollywood Internship Program, interning at Threshold Animation Studios. Originally from Long Island, I expected it to be a fun one time experience. It still surprises me today that I'm actually working in the industry. That summer, I had the opportunity to learn from the many people who work hard to ensure a project is brought to life and shown to the public, ranging from assistants to producers. My Threshold internship was very hands on, allowing me to take part in the many aspects of pre-production, especially the design part of it.
I fell in love with the animation process so much that I returned to Threshold the following summer, only this time without the help of my parents. No longer was I living in a condo by Santa Monica Beach, a comfortable distance from my internship. This time I was staying with a friend in a small apartment in a questionable part of Korea Town. For three months I slept on an air mattress, woke up at 6am in order to give myself enough time to catch the three buses I needed to get to Threshold on time. I had a part time job on top of that and worked over-time, getting home as late as 1am. As I watched my friend on a weekly basis struggle to pay off her student loans, I wondered if this would be my life after school, and would it be worth it?
Fortunately, the Cornell in Hollywood Program that summer matched up their interns with mentors, each specific to an intern's prospective career path. Because I wasn't officially a part of the program that summer, the program suggested that I take it upon myself to find my mentor. Through Threshold, I met a storyboard artist who needed assistance on his animation projects. Not only did he teach me more about the art of storyboarding, but also how to surf!
I can still remember the crucial moment that I decided I would return to Los Angeles. My mentor and I were sitting on Dockweiler Beach, on a sunny Saturday afternoon, looking out at the ocean, and sketching out storyboards. I acknowledged all of the friendly generous and supportive people I've met that summer, many who adopted a carefree attitude and love for life, but a serious driven passion for their careers. I wanted to be a part of that and whatever challenges I had to face would be worth it.
Threshold hired me right out of college and I officially moved to Los Angeles in the summer of 2010. Initially I was under contract for five months as essentially a production assistant, who did some design and modeling work. Every day I was learning, which made the job really exciting. A friend recommended me for an Art Coordinator position at Technicolor, and I began working there for another five months after my stint at Threshold ended. In March of 2011 I returned to Threshold to take up more responsibilities as the Head of Look Development. I even had my own team of interns!
I left Threshold in April of 2012 to work for Mammoth Vision, located in Burbank, as an associate producer. I arrived as they were finishing up their work on Lady Gaga's Born This Way Ball concert tour which got me excited to work on more projects that involved the music industry. My favorite project to have worked on so far has to have been The Who - Miles Over Vegas show on Fremont Street in Downtown Vegas. It's an amazing feeling to see hundreds of people see your work and applaud it. If you haven't seen it yet it'll be up for the next 3 years. The company gave me opportunities that have since challenged and improved me as a concept artist, modeler, animator, visual effects artist, compositor, and editor.
It's still surprising to me that this is where my life has led me. If you told me five years ago that I'd help make movies for companies such as Lego and Mattel, I wouldn't believe you. Life has been much better than my second summer in L.A and I'm really grateful to those supportive and caring people who've helped me get to where I am.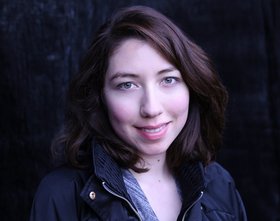 Elizabeth Jaeleigh Davis '12
Film director, producer, writer, artist
Interned 2012 with Elizabeth Allen Rosenbaum
Elizabeth is a Los Angeles-based film director, producer, writer, and artist. She is fresh off the festival run of her narrative short film, LA PETITE MORT. The film follows a young girl as she enters a mysterious forest to lose her virginity, only to have a twist of
fate wrench her lover away. "La Petite Mort" (French for "the orgasm") is a feminist exploitation film couched in a fairy tale that explores the messiness of the first time. The film was selected for numerous festivals worldwide, including the 2017 Seattle International Film Festival, Rhode Island International Film Festival, Hollyshorts Film Festival, and Encounters Short Film & Animation Festival. It was then hand-picked to premiere online via Short of the Week, the premier curated outlet for artistic short film on the web.
Elizabeth is also a documentarian. In 2012, she directed DHARMA which follows a
Chinese-American family's efforts to complete a medical mission to Cambodia amidst the loss of the family matriarch and patriarch. The documentary premiered at the Los Angeles Women's International Film Festival and NewFilmmakers NY. She is currently working on a follow-up documentary about family disintegration, coping, and mental illness.
Beyond her work as a director on over 10 narrative shorts, Elizabeth also directs commercial content, consults on various film and TV projects, and works extensively on photography and art projects. Previously, Elizabeth assisted CAVIAR's production arm on features such as THE DIARY OF A TEENAGE GIRL (2015, Sony Pictures Classics) and BETWEEN US (2016, IFC Films). She trained under film & TV director Elizabeth Allen Rosenbaum (EMPIRE, GOSSIP GIRL, THE EXORCIST, THE VAMPIRE DIARIES, RAMONA AND BEEZUS). Elizabeth studied Film and English Literature at Cornell University.
Elizabeth is developing a social thriller set in the world of online/app dating, among many other film projects. She enjoys playing pop songs (poorly) on her ukulele.
Here is a link to her short film:
https://www.shortoftheweek.com/2017/11/07/la-petite-mort/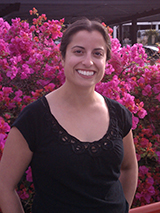 Elisabeth Frele MBA '12
Sr. Financial Analyst and Programming Cordinator, CBS
Interned 2011 with Spirit EMX
Before going back to school for my MBA I worked in finance but missed my original career goal of working in the entertainment industry. One of my professors suggested the Cornell in Hollywood internship program as a way to get to know people and gain experience in the industry. I interned with Spirit EMX (aka Spiritclips) doing both MBA-level work (making business plans, doing market research, financial planning, etc) and production work (script coverage, script writing and editing, storyboarding, budgeting, production planning and a lot more). The summer after I graduated I came back to LA and worked part time for Spiritclips doing on-set jobs from production assistant to extra to assistant director. Overall I got a great sense of the different roles involved in making a movie both in the office and on set. After a temp job at a small production company, I started my current job in January 2013 working for a small group at CBS Studios where I help manage CBS-owned channels in other countries.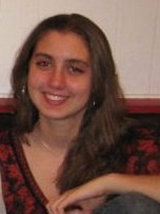 Katherine Juanita Hatton '11
Coordinator at RL Leaders - Los Angeles
Interned 2008 with BenderSpink
Interned 2009 with MTV Networks
Thanks to the amazing Cornell in Hollywood Summer Intern Program, I was able to spend two summers in LA getting a hands-on look at the entertainment industry. I even found my current job through one of those internships. When I moved out to LA after graduating, I checked in with my first CiH internship supervisor who had become a manager at Principal Entertainment. She was able to offer me an internship at her company, and less than two months later I took over as the assistant to the literary department there. I've been with Principal for three years now, and I currently assist the two founding partners, who respectively head the Talent and Literary departments.
Annie Hayes '14
Assistant to Showrunners Jarrad Paul and Andy Mogel
Interned 2012 with Elizabeth Allen-Rosenbaum
I had always wanted to work in film and TV in some capacity but not knowing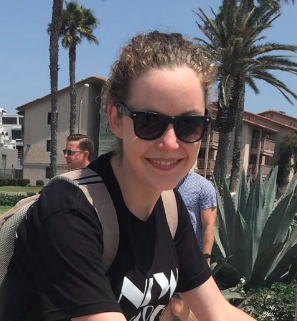 anyone in the industry, I always thought the world of Hollywood seemed very far away. After my sophomore year, I was a Cornell in Hollywood intern for director Elizabeth Allen-Rosenbaum. Liz was an amazing mentor, not only sharing her experiences and advice but also bringing over friends who were actors, editors, writers, and producers to expose us to those perspectives. The CiH program turned a career in Hollywood from an elusive idea into an achievable goal. I came back to Cornell in my junior year knowing definitively that I would pursue entertainment, something I had been too unsure and too nervous to say before. The internship also showed me that I wasn't cut out to be a director. Instead, I found a new passion for screenwriting.
After graduation, I had a handful of non-starter jobs in New York before finally moving out to LA in the summer of 2016. That summer was spent at the Oakwood apartments in Burbank working as a counselor for the New York Film Academy's high school summer camp (a surprisingly grueling and crazy experience). Having stated publicly and frequently that I never wanted to work at an agency, I found myself working at Verve Talent and Literary Agency, co-founded by Cornell alum Bill Weinstein '98, and where his brother Adam '01 is a partner. In my time there, I've worked for two TV lit agents, one focusing primarily on comedy and digital, the other more firmly entrenched in the drama world. In the new year, I'll be working for the two showrunners of a new Netflix comedy. While I think my experience at Verve was probably as positive as an agency experience can be, I'm very excited to take this next step.
Over the last year, I've learned a great deal about the industry and about myself. For the first time, I'm surrounded by people who understand what I want to do and who even share the same goals. I owe an enormous amount to the summer I spent in LA; without it, I know never would have had the guts to move across the country. I wouldn't have role models in Liz and my CiH-assigned mentor Andrea Berloff. And I wouldn't have had the friends I made through the program, who were really the only people I knew when I came out here. People talk often about the great alumni networks of places like USC or UCLA, but I've continually felt the strength of Cornell's presence here. It might be smaller, but the community is more tight-knit and more personal.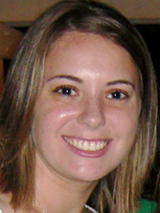 Alyssa Kent '12
Public Relations Manager, Time Inc. - NY
Interned 2011 with Beck Media
The summer before my senior year, I participated in the Cornell in Hollywood Internship Program and had the unique opportunity to intern at Beck Media & Marketing, a public relations and marketing agency representing clients at the intersection of entertainment and technology. While interning, I was able to help brainstorm, plan, and execute strategic communications campaigns for an array of clients, including: the Academy of Television Arts & Sciences Foundation, Animal Planet, TV Land and 495 Productions. Throughout the summer, I learned how to write press releases, pitches and media alerts; create media lists; connect interviews; and work events. I was also able to participate in company brainstorm sessions where we discussed ideas for potential marketing campaigns for various clients.
I was lucky to have been given the opportunity to intern at Beck Media & Marketing, where I worked with a team that took the time to teach me about public relations and marketing, and how to effectively generate results. Additionally, everyone at the agency respected me and my ideas. I had an incredible internship experience and am very grateful for the Cornell in Hollywood Internship Program and its many networking opportunities.
At the end of the summer, I returned to Ithaca for my senior year. While across the country, I stayed in contact with employees of the agency and was thrilled when I was offered a position upon graduation. I am now a full-time employee at Beck Media & Marketing and am extremely fortunate to work with such a supportive team and diverse client roster, which includes: award-winning talent, NBCUniversal, AEG Global Partnerships, Hulu an
d more.
Olivia Krebs '15
Writer's Assistant
Interned 2013 and 2014 with Di Novi Pictures, Avalon Entertainment, Star Thrower Entertainment, Elizabeth Allen (film director)
After graduating from the Hotel School with a double minor in Film and Theater Performance, I got my first job in Los Angeles working for an agent at Creative Artists Agency. I currently work as a writer's assistant to Etan Cohen, a comedy writer/director. (a Harvard grad, boooo!)
At Cornell I spent most of my time improvising with the Whistling Shrimp Improv Troup or doing stand-up comedy. I also developed/produced/directed a webseries entitled This Is A Webseries, which screenwriting classes might still be subjected to sit through.
In LA I produce a comedy show called Arts and Crafts that recently performed at the Hell Yes Fest in New Orleans. The show has hosted many amazing comedians like Eric Andre and Adam Conover and features a new artist every show that makes something live based on the jokes being told.
The fact that I get paid to work in Hollywood would not have been possible without my internships at Di Novi Pictures, Avalon Entertainment, Star Thrower Entertainment and with Elizabeth Allen (film director).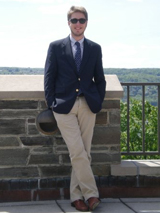 Alexander Krivicich '08
Founder of Super Bit Machine - LA
Interned 2008 with New Wave Entertainment
Alexander Krivicich is partner and co-founder of Buffalo Studios, a social and mobile casino gaming company behind the category leading Bingo and Slots titles on Facebook, iOS and Android. Acquired by Caesars in December 2012, Buffalo Studios allowed Caesars to topple Zynga as the No. 1 publisher of social casino games by market share. Krivicich was responsible for leading the game design and creative direction of Buffalo's flagship game BINGO Blitz, named Top 10 Facebook game by Facebook & Inside Social Games. He now helps shepherd titles to market as the Sr. Product Director. Prior to founding Buffalo Studios, Krivicich served as an integral part of Electronic Arts social game initiative as the Art and Design lead for EA Social and subsequently for EA Mobile.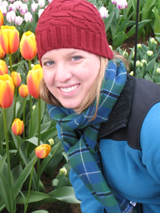 Katie Lilly '09
Warehouse 13/Dominion
Post Production Supervisor
Interned 2009 with Caprica
I graduated from Cornell with a double major in psychology and film and chose an internship with CiH over returning to Chicago to continue the job search. I was lucky enough to land an internship with the Post Production team of Battlestar Galactica/Warehouse 13/Caprica. A month into the internship, the team had the opportunity to hire a Post PA and offered me the job. Since then, I've been a post production assistant on Warehouse 13 Season 1, the only season of Caprica, a post coordinator on Warehouse 13 Season 2, Supah Ninjas on Nickelodeon and a pilot for CBS/TNT. I received a promotion to Post Supervisor for Warehouse 13 Seasons 4 & 5, and am now on Syfy's new series, Dominion. When I'm not busy working, you can usually find me hiking SoCal with my trusty German Shepherd.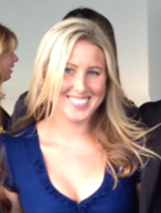 Mandy Malzberg '09
Manager, Brand Marketing Services, FOX Networks Group
Interned 2008 with Threshold Entertainment
I am currently working at Fox Broadcasting in Special Ops, a specialized digital marketing department. The summer before my senior year, I participated in the Cornell in Hollywood Program with an animation production company. My internship truly inspired me to begin my career in the entertainment industry. In 2009 I graduated with a BA in American Studies and Italian and moved across the country to Los Angeles. I found myself working with a successful Talent Manager and learned many facets of the entertainment business. After a few years at the Talent Management Company, I knew that I wanted to move over to a TV network. Through a Cornell alumnus, I was able to get my foot in the door with the On Air Promo division at Fox. From there I moved over to the innovative and forward thinking Special Ops department, where I'm constantly learning something new and am working with a team who is pushing boundaries and accepting fun challenges everyday!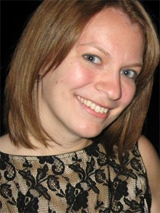 Eden Mayle '09
Casting Associate, Disney ABC Television Group
Interned 2008 with BenderSpink, MTV Radio
I first came out to Los Angeles in 2008 through the CiH Intern program. With two internships at Benderspink Productions and MTV Radio, I had a busy summer that solidified my intent to work in the entertainment industry.
Post-graduation, I made the move out to the West Coast with little more than what could fit in my Corolla. I very happily stumbled into an office PA position that quickly turned into an executive assistant role. After working in the industry for some years, I have nothing but high hopes for the future!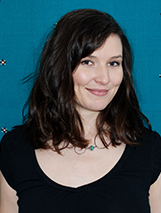 Amanda McCann '09
Screenwriter/Executive Producer/Actress
Interned 2009 with Mosaic Media, Atlas Entertainment
After graduating with degrees in Film and Asian Studies in '09, Amanda packed up her cats and the textbooks she'd forgotten to return to the Cornell Store that her mom didn't want around the house and moved to Los Angeles. She got a fantastic glimpse into the industry through the CiH program and spent the summer post-graduation interning at a production company and management company, and attending the amazing weekly events Nancy and crew planned to give Cornellians a comprehensive view into the industry. She then went to work as a TV/feature writer's assistant and tutor and started taking acting classes and producing shorts until she felt ready to grab the bull by the horns and helm a feature. After suckering two close friends and content creators into joining her in the insane venture that is truly independent filmmaking, Amanda spent five months working full time, meeting nightly to co-write and produce June, Adrift: the story of three young women who leave suffocating lives in LA to build a wooden sailboat in rural Maryland. Filming occurred last July in Amanda's hometown and in Los Angeles. She was delighted to play Emma, a wannabe sound designer who can't quite make the leap from porno foley artist to ... anything else. Thanks to Emily Bloom and Katie Lilly, the post-production process is nearly complete and Amanda is now prepping for festival submissions.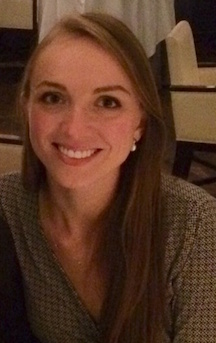 Julia Paskert '12
Sr. Producer, Commercial Finishing​
Interned 2010 with DreamWorks Animation
I feel so fortunate to have participated in the Cornell in Hollywood program, and I owe my success to this alumni network. After applying to three awesome opportunities, I received an internship after my sophomore year with Dreamworks Animation. Not only did I learn essential film industry basics, but I made lasting friends and connections. The following summer, I was invited back to Dreamworks for a paid internship, working with the same team on the same animated feature. I was given more responsibilities, and was able to forge important professional relationships. My mentor, who was the producer of the animated feature and a Cornell alum, continued to show interest in my progress, even throughout the school year.
It was after graduation that I was given two amazing job opportunities as a direct result of my Cornell in Hollywood experiences. Deciding to enter the visual effects industry, I took a job as a production coordinator at Digital Domain, for the third installment of the movie Iron Man. My time at Digital Domain taught me valuable skills of visual effects production that I would take with me to my next employer, Method Studios. At Method, where I currently work, I initially focused on feature film visual effects, but have since transferred to the commercial team. As a senior producer, I work alongside talented artists and advertising agencies to develop captivating commercials for a variety of well-known brands.
Without the kickstart to my career that Cornell in Hollywood offered, I wouldn't be where I am today. It's a fantastic program, well-supported by a network of impressive alums who strive to give back to the Cornell undergrad community.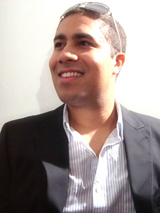 Jason Ramsey '10
Stereoscopic Production Supervisor, Walt Disney Studios
Interned 2010 with Elizabeth Allen
After completing a CiH summer internship with feature film and television director Elizabeth Allen, I experienced many facets of the industry, working as an assistant on commercials, web series, music videos, reality television series, and independent features. My first major motion picture credit was the Warner Bros. 2011 film Green Lantern, on which I worked as an assistant in the 3D conversion department. Now pursuing a career in visual effects and 3D, I was recently stereoscopic (3D) coordinator at Fox on X-Men: Days of Future Past.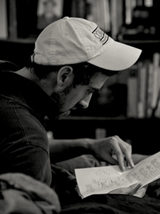 Reed Van Dyk '07
Screenwriter and Director
Interned 2007 with Elizabeth Allen, Andrea Berloff, and Drew Filus
After graduating from Cornell with a BA in Theatre, Reed got his start in Los Angeles working with fellow Cornell alumnae Andrea Berloff (screenwriter) and Elizabeth Allen (film director) as part of CIH's inaugural year. While still at Cornell, Reed made his first short film The Conservatory which went on to win the 1st Place Student Emmy Award for "Best Comedy." Since then Reed has written, directed, produced, and edited two more short films. His film Hung Up played the 2012 Mill Valley Film Festival among others. And his most recent short film nasty hardcoreXXX amateur couple will premiere in April at the 2014 Florida Film Festival. The festival is an Oscar-Qualifier and has been called one of the "big 15" film festivals in the United States. Reed's shprt film, "DeKalb Elementary" has been nominated for a 2018 Oscar for Best Live-Action Short Film.
MENU
2017 Potential Internship Postings: