Organized Screening of THE AUTOMATIC HATE in Santa Monica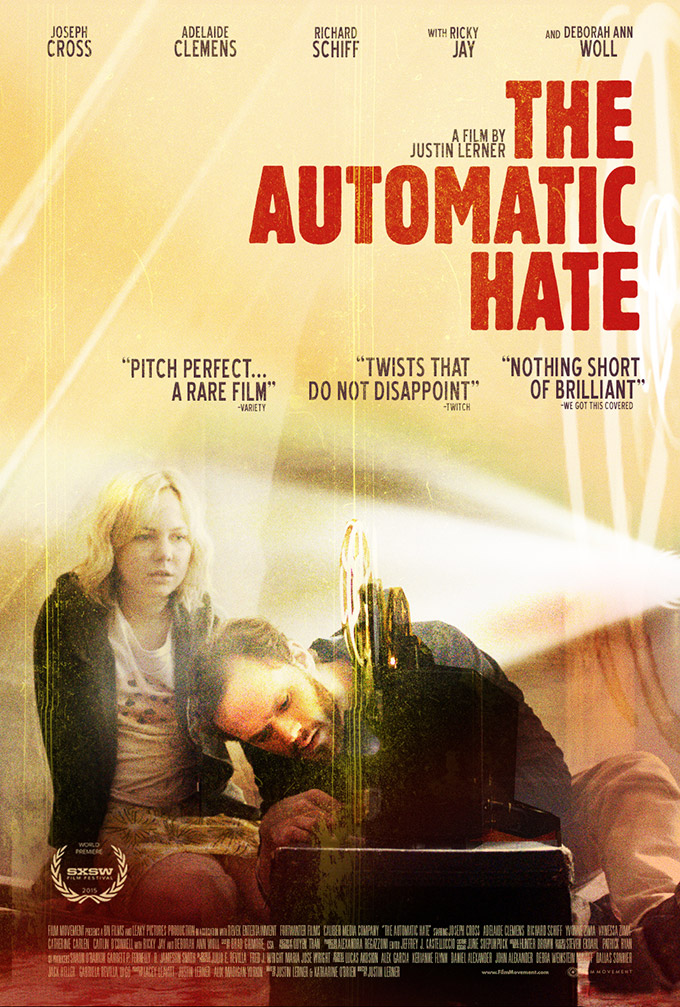 There is an awesome opportunity coming up to support a great Cornell film director, Justin Lerner '02. He is blowing up as a director and writer and is also a big fan and supporter of Cornell in Hollywood.
Next weekend, Justin's new film THE AUTOMATIC HATE (see the trailer here) is having its theatrical release in LA. It has been all over the world at various festivals and has been received with great reviews. The film was an official selection at 2015 SXSW Film Festival, and stars Joseph Cross (LINCOLN, MILK), Adelaide Clemens (THE GREAT GATSBY), Deborah Ann Woll (TRUE BLOOD), Richard Schiff (THE WEST WING) and Cornell alum Ricky Jay (BOOGIE NIGHTS).
CCLA is hoping to get a group of young industry Cornell alums together to come see the film on Saturday, March 12th for the 4:50pm show at the Laemmle in Santa Monica 1332 2nd Street, Santa Monica CA 90401. The screening will be followed by a Q&A with Justin and some of the cast members. https://www.facebook.com/events/190333344672578/
If you can't make the 4:50 pm show on Saturday, please see below for other times the film is showing, as well as a link to buy individual tickets.
Tickets for other screenings can be purchased at http://www.laemmle.com/films/40121
Other times the film is showing (from Friday, March 11 - Thursday, March 18)
12:00pm, 2:20pm, 4:50pm, 7:20pm, 9:55pm
Director & Cast will do Q&A's at the following screenings:
Fri 3/11: 7:20pm;
Sat 3/12: 4:50pm & 7:20pm
Sun 3/13: 2:20pm & 4:50pm
ABOUT THE FILM
When Davis Green's (JOSEPH CROSS) alluring young cousin Alexis (ADELAIDE CLEMENS) appears
on his doorstep one night, he discovers that a side of his family has been kept secret from him.
Against his father's wishes, Davis travels to rural, upstate New York to meet his other cousins.
While wrestling with a taboo attraction to one another, he and Alexis attempt to reunite their
families, uncovering the reasons behind a longstanding rift and the shocking secret that tore
their fathers apart. Together, their discoveries force them to confront the temptation to keep
their familial grudge going rather than end it.
"AN UNCONVENTIONAL LOVE STORY THAT ALSO CROSSES BOUNDARIES
INTO A FAMILY DRAMA, PSYCHOLOGICAL THRILLER, MYSTERY AND
MORALITY PLAY... [IT] IS FASCINATING, AND CREATES A FILM THAT IS
BOTH CHALLENGING AND ENTERTAINING." –AIN'T IT COOL NEWS