Private Tour & LEGO Exhibit at the South Coast Botanic Gardens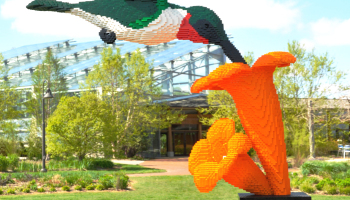 Come enjoy the beauty of the South Coast Botanic Garden and the wonder of Nature Connects, a sculpture exhibit of larger-than-life pieces made from LEGOs. This exhibit has drawn large crowds across the country and is very kid-friendly, so make sure you get your tickets for the whole family early, as we will sell out soon.
We will enjoy a docent-led tour of the Garden and exhibit, assisted by a free app developed exclusively for this exhibition by Peter Olpe '84, Chair of the South Coast Botanical Garden Foundation. The event will include a private reception with light refreshments by the Garden's beautiful Koi Pond.
Date: Sunday, April 10, 2016
Time: 10:00 am - 12:30 pm
Location: South Coast Botanic Garden, 26300 Crenshaw Boulevard, Palos Verdes Peninsula, CA, 90274
Parking: parking at the Garden is on a first-come first-serve basis, so to ensure you get a spot come early! If the lot is full, there is a park and ride lot at the Promenade on the Peninsula mall in Palos Verdes.
Cost: $20 per CCLA member ($40 for CCLA member + 1 guest); $10 per child of members; $30 per person for non-members and additional guests; $15 per child of non-members. Join CCLA today and save!
RSVP: Click here to buy tickets!!!
More Info: Erik Kronstadt - (310) 428-8487