Cornell alumnus Justin Lerner's award-winning SXSW indie drama THE AUTOMATIC HATE is available to buy and rent on iTunes, Amazon, and VOD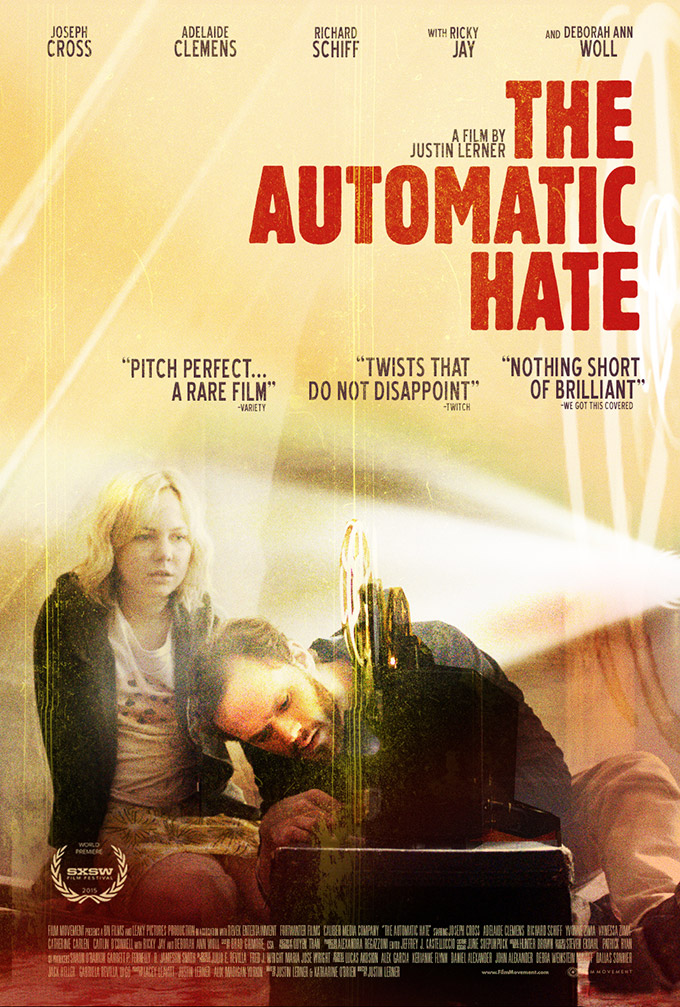 BUY / RENT on iTunes
BUY / RENT on Amazon
Save us to your Netflix Queue
They set out to uncover a family secret and found a forbidden desire.
The second film from Emmy and Gotham-awarding winning director Justin Lerner, The Automatic Hate features captivating performances from Joseph Cross (Milk, Lincoln), Adelaide Clemens (The Great Gatsby, Rectify), Deborah Ann Woll (True Blood, Daredevil), Richard Schiff (The West Wing) and Ricky Jay (Boogie Nights, Magnolia).
OFFICIAL SELECTION: SXSW Film Festival / Busan Int'l Film Festival / Mill Valley Film Festival / Seattle Int'l Film Festival / Woodstock Film Festival
"The family you never knew you had turns out to be the family you may wish you never met in Justin Lerner's 'The Automatic Hate.' This arresting seriocomedy deftly walks a tightrope between droll and tense, over a gaping pit of crazy"
– Dennis Harvey, Variety
"[One of] the 10 best films I saw at SXSW 2015... [with] the most explosively uncomfortable dinner party scene ever... a sort of 'Romeo and Juliet' incest tale of two cousins who face their mutual attraction, this one has headline-making potential…"
– Ryan Lattanzio, Indiewire / Thompson on Hollywood
Watch the OFFICIAL TRAILER
Not Rated • 2016 • USA • English • 97 minutes • 2.35:1 • Stereo and 5.1 Surround Sound
​
Available on iTunes, Amazon Instant and Cable VOD on June 7th, 2016
--
THE AUTOMATIC HATE
our Facebook Page
our Official Twitter