THE INNER WORKINGS OF LOS ANGELES HARBOR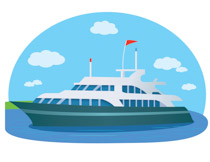 Free Tour - sold out
The Port of Los Angeles/Long Beach is the largest container port in the United States. It has 270 berths equipped with 86 giant cranes to load and unload containers. Most of America's electronics arrives there and most of our automobiles from Japan, Korea, India, and China are rolled-off there. The City of Los Angeles invested hundred of millions of dollars to install machinery to load and unload ships thus attracting ship owners to dock here. Those of us who live on the West Side or in Pasadena see little direct evidence of the port but it is a major factor in the economy of Los Angeles.
Several Ivy League schools are cooperating to sponsor a tour of the Port by boat on Friday, November 18. Members and guests are welcome at no charge, per the Port's invitation. Children over eight years old are welcome. Bring sweaters or jackets in case it is cold on the water. The Port will serve complimentary soda and water. Bring your own snacks.
Former Harbor Commissioner Fred Heim (Harvard AB50, MBA51) will join us to tell stories about the inner workings of the harbor.
Sign-ups close on 15 November.
We will meet on Friday, November 18, at Berth 84 next to the Los Angeles Maritime Museum at 12:30 pm for 1 pm sailing, returning to port at 2:30 pm. The Port management says that this tour is more detailed and longer than the commercial tours.
The tour organizer strongly recommends that you visit the Maritime Museum before or after the tour. It has a detailed history of the San Pedro fishing fleet and the Terminal Island canneries, mostly tuna and sardines. All is now off-shore.
Date: Friday, Nov. 18, 2016
Time: 12:30 pm
Location: Port of Los Angeles/Long Beach (meet-up details below)
Parking: see below
Cost: Free
RSVP: Click here to obtain tickets!!! To be put on the waiting list, email Nancy Mills at NLM5@cornell.edu
NOTE: CCLA members (plus 1 guest only) – very limited capacity
TRAVEL INSTRUCTIONS
Take the Harbor Freeway (I-110} South almost to the San Pedro exit. You will pass a forest of cranes on your left and an oil tank farm on your right. Skip the CHANNEL STREET exit and take the very next exit marked TERMINAL ISLAND. Keep right on the ramps following the signs to HARBOR BOULEVARD. Do not get onto the bridge. Turn right on Harbor Boulevard past the Battleship Iowa. Turn left at the traffic light at 6th Street. You are facing the Maritime Museum; unmarked berth 84 is on your left. Turn right for parking. There is ample free off-street parking diagonally opposite the museum, opposite the adjacent Acapulco restaurant. If you pass Ports of Call you have gone too far on Harbor Boulevard.