BIG RED TANGO on the Hill! (Rancho Palos Verdes)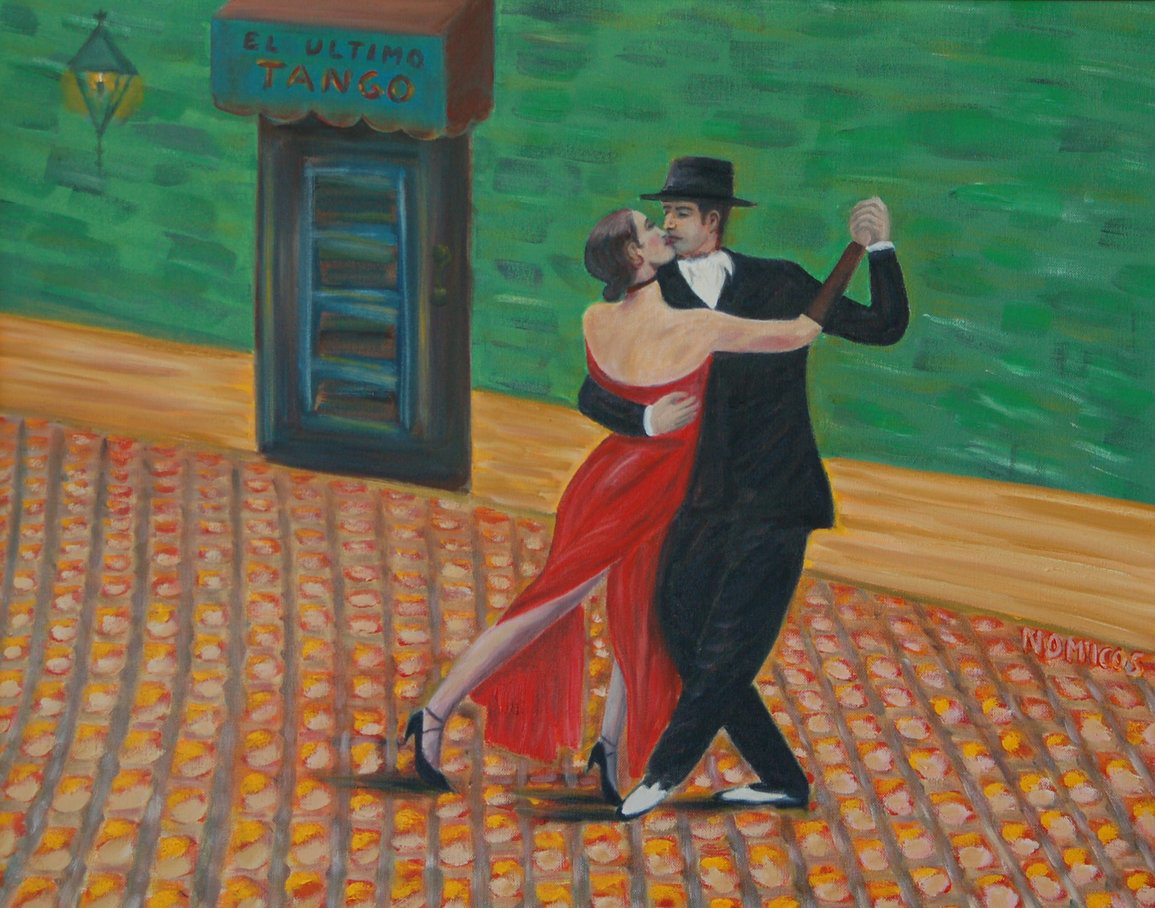 Date: Sunday, Oct 16, 2016
Time: 4:30 Drinks, 5-6pm A professional tango exhibition, Tango singer Miatta Lebile 08, and live tango music with a catered grilled Argentinian dinner​
Hosts: Jackie (Lutz) Geiger '79 and Greg Geiger '82, Nicholas Nomicos '78 and wife Sylvana, and Neil '66 and Karin Chafetz P'17,'18
Location: Rancho Palos Verdes
Donation: $95
Guests: 24
Click here to buy tickets!!!
Experience the alluring and addictive "Tango" by joining Jackie (Lutz) Geiger '79 and Greg Geiger '82, Nicholas Nomicos '78 and wife Sylvana, and Neil '66 and Karin Chafetz P '17,'18 for a show including seductive Tango dancers. "The Tango Trio" will perform Piazolla tango music, and la cantante Miatta Lebile '08 will sing Latin favorites (Amado Mio & Whatever Lola Wants). Everyone will enjoy savory empanadas and tart Pisco Sours. The performance will be followed by a dinner of Argentinian Grilled meats with wines.
Painting featured above by Nicholas Nomicos.
--------
MORE ABOUT THE CCLA SCHOLARSHIP DINNER PROGRAM
How can you simultaneously have a wonderful meal, meet new Cornellians and help provide much-needed scholarships for deserving Los Angeles Cornell students? The Club's annual series of Scholarship Dinners & Events offers you a chance to have a great time while benefiting CCLA's Scholarship Endowment. This year's dining and event options can't miss!
From September through Thanksgiving, generous Cornell hosts open their homes, tables and other interesting venues to other scholarship-supporting Cornellians and friends, with 100 percent of all donations going to the Endowment. As veteran attendees know, Scholarship Dinners are a win-win-win deal for hosts, guests and the Club. Many choose to go to more than one event; a few years ago one member attended six!
In place since 1996, the CCLA Endowment now stands above $400,000. Out of this total, this year we are providing $30,000 in scholarship awards. The club is continuing to grow the Endowment through the Scholarship Dinner program and other fund-raising.
Your tax adviser can explain how your Dinner costs may be deductible. If your schedule prevents you from attending a Dinner this year, please consider making a donation in lieu of attending. We hope to see you at one of our events!
Please check https://www.cornellclubla.com/events.html for a full list of Scholarship Events. New events will be added throughout the season.