Cornell Big Red vs. Virginia Cavaliers Lacrosse Shootout in Southern California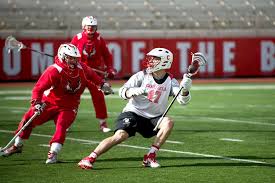 Ivy League Champions- '66, '67, '68, '69, '70, '71, '72, '74, '75, '76, '77, '78, '79, '80, '81, '82, '83, '87, '03, '04, '05, '06, '07, '08, '09, '10, '11, '13, '14, '15
Come see Cornell's Lacrosse team battle Virginia at The Pacific Coast Shootout at Orange Coast College. Optional meet & greet buffet dinner with the players, coaches and staff following the event. Game tickets and after-party tickets are each sold separately. Sign up for both or either!
Go Big Red!
(photo from Cornell Daily Sun)
Date: Saturday, March 11, 2017
Time: 6:00pm
Place: Le Bard Stadium, Orange Coast College
Parking: Free parking in the Adams Street lot
Reserved Seats: $30 for CCLA members + guests Click HERE to purchase tickets. (You will be redirected to special Cornell-only website run by Pacific Coast Shootout.)
Questions: Kim Bixler@earthlink.net 310-560-0444
Pre-Game Tailgate
Catered by: Newport & Naples Rib Company
Location: Orange Coast College Campus
$20 for adults
$10 for kids under 12 years old
Click HERE to purchase tickets.
But wait.....there's more! Friday, March 10th:

Join us for an evening with the Cornell University Men's Lacrosse Team! Click HERE for tickets.

Friday, March 10 • 7:00 PM
Harborside Pavilion • Newport Beach, CA
There are three levels of admission to the event:
A hosted table for four (4) guests and up to four (4) Cornell players is $800.00
An un-hosted table for eight (8) guests is $425.00
Individual tickets are $55.00
Big Red Supper Hosted Table includes:
• Private hosted table includes four (4) seats for the host and his or her guests joined by up to four (4) members of the Cornell Big Red lacrosse team.
• Buffet dinner for four (4)
• A meet & greet opportunity with Cornell head coach Matt Kerwick
• One (1) customized Cornell lacrosse helmet
• Four (4) VIP gifts
Shootout Game Day Elements:
• Four (4) reserved section tickets to the 2017 Pacific Coast Shootout
• Four (4) pre-game, VIP field level access passes during team warm-ups
• One (1) VIP parking pass