New film, "Angkor Awakens," to screen in Los Angeles
Special Event for Cornellians - Afternoon Matinee in Santa Monica with Q&A Afterwards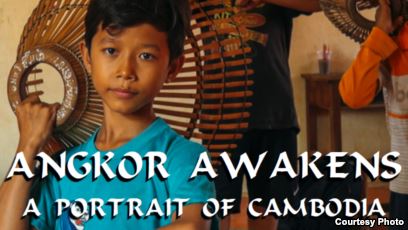 Following his celebrated film, "They Call It Myanmar," Cornell Physicist and film director Robert H. Lieberman's ('62) new documentary "Angkor Awakens" premiers nationwide this spring, with a May 12th week's run at Laemmle's Monica Film Center in Santa Monica. There will be a Special Event screening for Cornellians on Saturday, May 13th, at 3 pm. Lieberman will be present for a Q&A afterwards. If enough people are interested, we could plan a no-host dinner with Lieberman after the Q&A. Please email Nancy Mills at NLM5@cornell.edu if you would be interested in attending a no-host dinner somewhere in Santa Monica.
Date: Saturday, May 13, 2017
Time: 3 pm screening
Location: Laemmle's Monica Film Center, 1332 2nd Street. Santa Monica, CA 90401
Parking: various lots in SantaMonica
Cost: $12 per person; $9 per Senior 62 & Over or Child 11 & Under
Buy Your Tickets Here: https://www.laemmle.com/films/42016
Possible No-Host Dinner: Nancy Mills at NLM5@cornell.edu
More Info or Questions: Nancy Mills at NLM5@cornell.edu
They Call It Myanmar" was a New York Times Critics' Pick and was hailed by critic Roger Ebert as a 2012 top documentary. "Angkor Awakens" has already been receiving critical acclaim before its release.
Four years in the making Angkor Awakens builds on Cornell's mission for International Engagement and includes appearances of key Cornell faculty.
To see a trailer from Angkor Awakens — The Promise of Cambodia" go to:
New York Times
'Angkor Awakens,' a Blistering Account of Cambodia's Painful Past… The graphic evidence here, in testimony on camera and in period photographs, is absolutely harrowing… Deftly covering the history… it offers hope to a badly scarred nation.
https://www.nytimes.com/2017/05/03/movies/angkor-awakens-review.html?_r=0
Washington Post
'Angkor Awakens' takes an intimate look at a country emerging from trauma
it is the uncharted future of Cambodia, as much as the past, that concerns filmmaker Robert H. Lieberman in his intimate, deeply humane.
http://www.theintelligencer.com/entertainment/article/Angkor-Awakens-takes-an-intimate-look-at-a-11115231.php
Following Films
ANGOR AWAKENS is an important and enlightening reflection of our current political climate…offers an intimate look at a country who has reached a political and cultural tipping point. The most illuminating interview in the film is with Hun Sen, Cambodia's Prime Minister…That conversation offers a chilling.
http://www.followingfilms.com/2017/05/angkor-awakens-portrait-of-cambodia.html?m=1
Village Voice goes live shortly
Director Robert H. Lieberman's documentary Angkor Awakens: A Portrait of Cambodia is a superbly balanced picture of Cambodia then and now, a nation in a sort of stupor of post traumatic stress syndrome, denial and survivor's' guilt…Lieberman is also a novelist, and his storytelling skills are evident
Leonard Lopate Show WNYC
http://www.wnyc.org/story/portrait-cambodia/?hootPostID=d6d4871c2c9abb66069bea8ccbd71577
"Angkor Awakens" pulls a rabbit out of the hat with his extensive interview with strongman Prime Minister Hun Sen
"Angkor Awakens" provides an incredibly moving insight into Cambodia past and present.
—Global Witness
A probing, psychological account of Cambodia, an arresting new film that tackles Cambodia's entangled past unreservedly.
— Open Democracy
Breathtaking glimpses of Cambodia's rolling rice fields, forests, shorelines, temples and palaces —
Peels back the modern westernized rhetoric and does an amazing job in piecing together an often ignored narrative from the many voices and accounts of the Cambodian people.
—Cornell Daily Sun