Cornell in Tech: Office Hours with Mentors - Sold Out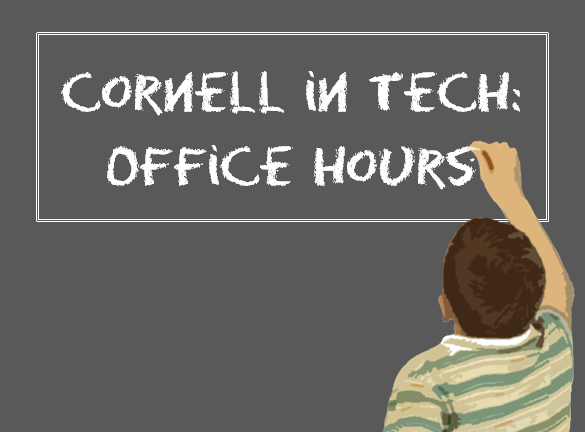 Have you started a company or are thinking about starting a company? Come network with other entrepreneurial alumni and get your questions answered from successful Cornell startup founders and investors.
This will be a group format since we've found it's helpful for founders to learn what others are going through, and gives entrepreneurs a chance to network with each other. However, it will be an intimate event to ensure everyone is able to get personalized feedback, so space is limited to just 10 people.
Pizza and beverages will be served.

Date: Thursday, July 20, 2017
Time: Doors open at 6:30 pm; mentoring session runs from 7:00-9:00 pm, though sessions often run past time
Location: Downtown Santa Monica
Parking: Santa Monica has a number of garages in the downtown area
Cost: $10
To add your name to the waiting list, email Nancy Mills at NLM5@cornell.edu
Click on button below to sign up.
Our Mentors:
Sonya Sepahban's career spans world-class aerospace organizations such as NASA and General Dynamics, where she's held executive roles. She most recently co-founded PropelWorks, which helps startup companies learn and connect. Sonya currently serves on the boards of two companies, is an angel investor, and serves on the five-member investment committee of the largest Angel Fund in Michigan (MAF). She advises and mentors entrepreneurs in her spare time and is also a private pilot. Sonya holds a B.S. in Chemical Engineering from Cornell and an M.S. in Chemical Engineering from Rice University.
Ari Evans has been an entrepreneur since the age of 12 when he started selling Pokemon cards on eBay and has started several companies since then. He was the Product Manager for Zynga's Cityville when it was the #1 game on Facebook. He's currently the founder and CEO of Maestro.io, a real-time engagement platform with customers like PlayStation, Microsoft, and EA. Ari has a B.S. in Computer and Information Sciences from Cornell and an M.S. in Management Science and Engineering from Stanford University.
John Kent is a former US Army captain. He's worked at SPADAC, an analytics company serving the defense and space industries, and at Box, a $2.4B document management startup in Silicon Valley. He most recently was a product manager at Synack, a cybersecurity startup. John is also a recent transplant to the Los Angeles area. He has a BA in Government from Cornell and an MBA from the London Business School.