Another Beaudry Loop Hike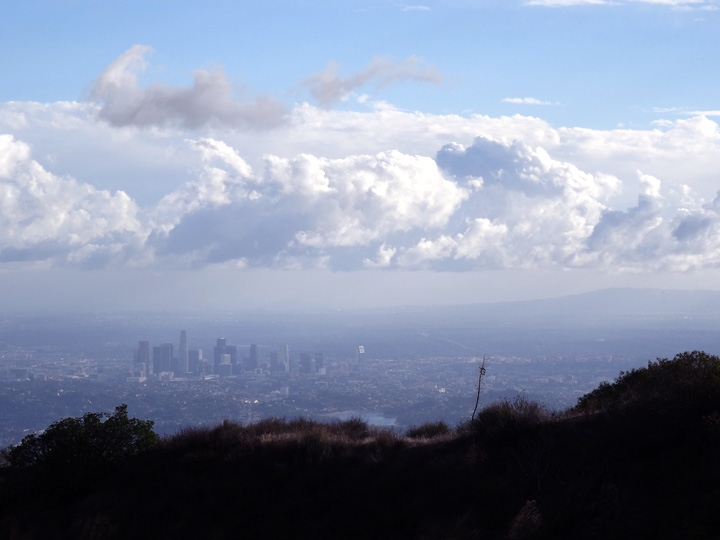 This Verdugo Mountains hike on dirt service roads is a 7 on a scale of 1 to 10 (10 being most difficult) for beginning hikers - owing to some steep parts on the trail - and it's a 5 for experienced hikers. And dog-friendly as there are no rocky trail sections.
We'll hike up Beaudry North, enjoying views of the San Gabriel Mountains and the valley of La Crescenta, Glendale and La Canada below. After ascending to the peak about 1,500 feet above, there's a top-of-the-world walk between two sets of radio towers with a panoramic view of planes taking off and landing at the Burbank airport, Universal Studios and past toward the upper Valley, Sylmar, Palmdale. We will see traffic streaming on the 5, 134, 2 and 210 freeways, and up and down the coastline. On a clear day you can see the ocean.
Descending Beaudry South, we'll enjoy the coastal views beyond downtown Glendale. All in all, this is one of our favorite hikes. Bring at least (2) 17-oz bottles of water, a hat and a good sun block. You will be required to sign a waiver form before the hike starts.
Date: Sunday, Sept. 17, 2017
Time: 7:15 am arrival; we'll leave at 7:30 am; estimated to be down by 10 am
Location: Meet by the fence where street signs 1300 Beaudry Blvd. and 3110 Beaudry Terrace stand together
Parking: Much parking available up and down Beaudry Ave. and Beaudry Terrace
Cost: Free
RSVP: Click below to register
More Info: Jeff Hyman - jmh876@yahoo.com