E. TIKI EXOTICA AND ALFRESCO SUCCULENCE AT MUSICAL FANTASIA IN RANCHO PALOS VERDES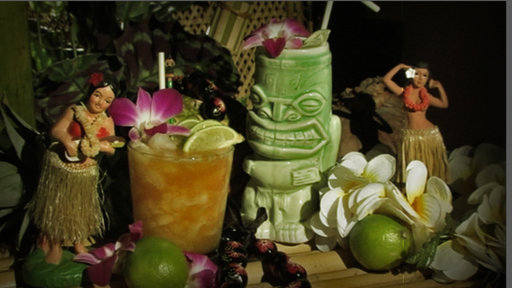 Date: Saturday, October 7, 5 pm
Hosts: Karin and Neil Chafetz '66, Chuck and Lisa Judge '85
Donation: $125 per person
Limit: 16 guests
Prepare to lose yourself in the lush, fantastical world of Tiki Exotica! Enter the mysterious Temple of Dining where you will sip luscious tropical libations, enjoy an alfresco succulent feast for the senses, and be bewitched by the alluring sounds of Chantress Miatta Lebile '08. Pianist Karin will conjure a few captivating Tiki standards as well. Come enjoy this Polynesian fantasia of escape, wonder, and mystery. The journey to a far-off land begins with just one sip! Tiki attire encouraged. Cornell parents Lisa and Chuck Judge join long-time scholarship dinner impresarios Karin and Neil Chafetz (also Cornell parents) to produce a dining and entertainment experience like no other.
Karin has a master's in piano performance from the San Francisco Conservatory of Music. She owns and manages her own company, Oracle Imaging Services Inc., in San Pedro, providing medical administrative support. Neil is Medical Director of Oracle, which is internationally known for its expertise in orthopedic musculoskeletal imaging. Chuck is an engineering manager at Linquest Corp in El Segundo. Prior to retiring to stay home and raise our four boys, Lisa was a systems engineer at Boeing Corporation in El Segundo. Miatta Lebile sings in all styles, acts in all genres, appears in all media. She claims, despite her beauty, the "ability to contort face in incredibly unattractive fashions."
Click here to buy tickets!!!
MORE ABOUT THE SCHOLARSHIP DINNER PROGRAM
"Thank you so much," wrote Roda Z. '17 a few months ago, thanking the Cornell Club for the scholarship money we provided. "I am forever indebted!" The Club receives a batch of letters like hers every year from L.A. students whose aid packages included money from CCLA. It chokes us up to read these heartfelt expressions, and motivates us to keep working hard to raise money to help local kids attend Cornell.
Did you know CCLA has a scholarship endowment of over $500,000? Two decades of fund-raising success, plus prudent investments, has enabled us to grow the endowment from scratch, while donating over $250,000 to Cornell to aid students like Roda Z. Last year, our gift of $30,000 helped support nine students.
The club's unique Scholarship Dinner and Event program is the vehicle. Alumni open their homes or invite club members to their favorite restaurant for an evening of fine dining and nostalgic camaraderie. Please join us at a table this fall!