Hollywood U2 at Polliwog Park in Manhattan Beach
Free concert!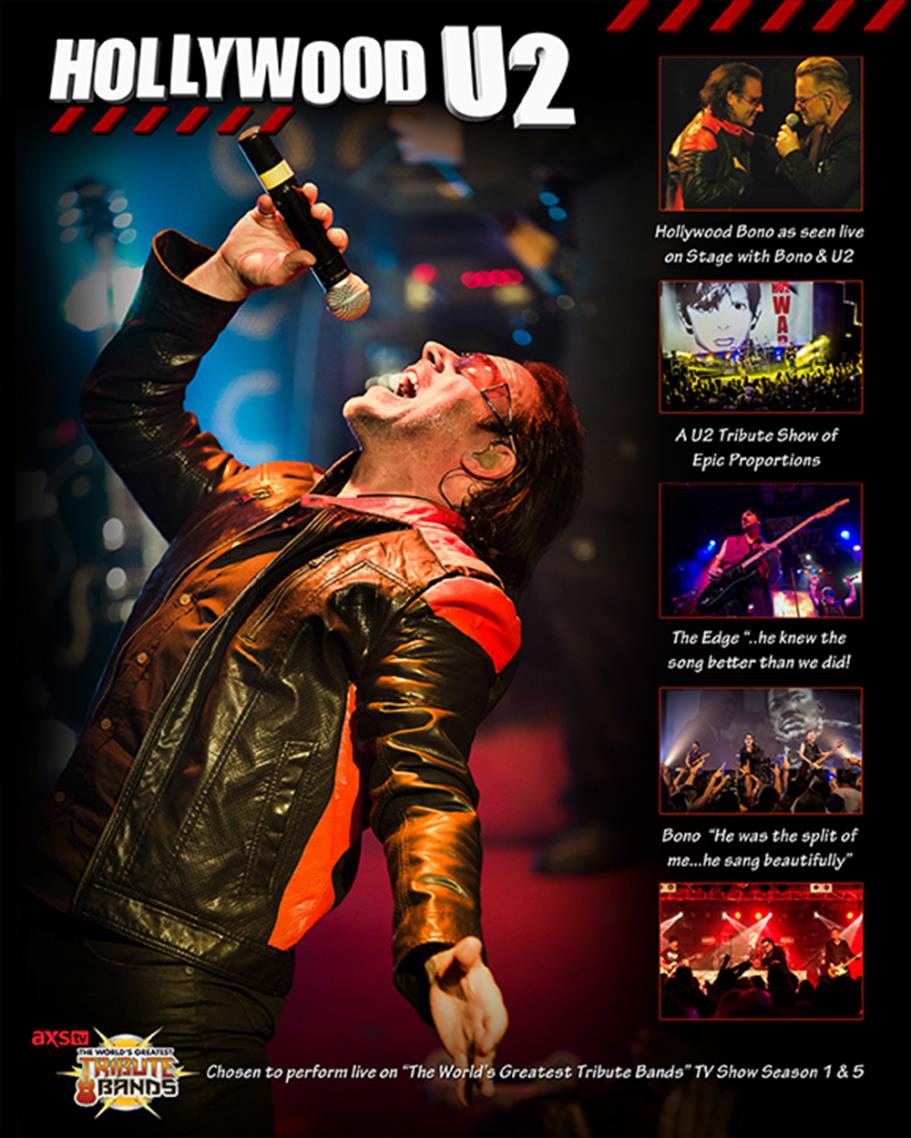 Polliwog Park is a perfect location for summer concerts. It's a great environment to listen to music and enjoy the outdoors in the South Bay. Enjoy the wonderful weather with fellow alumni. It's in the amphitheater area in front of the duck pond. Bring a blanket or a beach chair. You can picnic, purchase from Critic's Choice Catering (their website doesn't seem to be working – what is this?) or pick up something from a nearby Trader Joe's on Manhattan Beach Blvd. and Aviation Blvd..
Hollywood U2, based in Los Angeles, is the world's greatest U2 Tribute Band. The lead singer, Joe Hier (aka Hollywood Bono), is the only Bono impersonator to have sung with Bono & U2. This took place at The Forum in Los Angeles on May 26th, 2015, and made International news and headlines in such publications as Rolling Stone, LA Times, The Daily News, New York Times and Chicago Tribune.
From the sunglasses and costumes to the compelling vocals of Hollywood Bono, Hollywood U2 are consummate musicians who bring the look and sound of U2 and true heart of U2 to every performance with the precision and excitement of a U2 concert. This show is as close as you can get, aside from hiring U2 band members themselves.
Please note: no dogs, barbecues, or wheeled vehicles are allowed at any time in the concert area. Umbrellas and pop-up tents are allowed before and after the concert. Once the concert begins, you will be required to take them down.
Date: Sunday, Aug. 20, 2017
Time: concert starts at 5 pm; arrivals anytime after 3 pm
Location: Polliwog Park, 1601 Manhattan Beach Boulevard, Manhattan Beach, CA 90266 (Located at the corner of Redondo Avenue and Manhattan Beach Boulevard)
Cost: Free
Parking: on-street - http://www.citymb.info/city-officials/parks-and-recreation/parks-and-facilities/polliwog-park
More Info: Denise Yusuff '03 - denise.yusuff@gmail.com / 651-249-8230 – Denise will try to save spots for alums. Call or text her when you arrive for her location.