L. SOUTHERN CALIFORNIA-STYLE TAILGATE PARTY—BIG RED vs. DARTMOUTH
WE BEAT HARVARD,
WE BEAT BROWN,
WE BEAT PRINCETON,
WHY NOT DARTMOUTH!!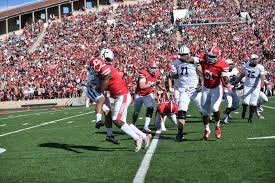 Date: Saturday, November 4, 10:30 am (kickoff time is 1:30 pm East Coast time)
Hosts: Tara Roth '94, Jordan Wallens '94, Donald Wallens '59 and Peter Wilhelm '93
Donation: $50 (free for children 12 and under); $25 for Young Alumni from classes of 2007-2017
Limit: 50 guests
Location: Carthay Circle neighborhood (90048)
Fire up your Big Red spirit, study up on the words to "Davy" and rally out to the Museum Row home of Dr. Donald Wallens to enjoy the kind of bright and sunny warm-weather Southern California tailgate party most Cornellians can only dream about. Tara Roth, Jordan Wallens, Donald Wallens and Peter Wilhelm welcome Southern California-area Cornell alumni and their kin. Gather outdoors in front of Donald's 60-inch TV to watch the Big Red football team take on Dartmouth.
All cookout necessities will be provided. Just try to arrive in carnelian and white logo-heavy Cornell gear, and come ready to celebrate with vintage tailgate grilling, cold beer, savory Bloody Marys, burgers and brats for all. Families encouraged. Kids ride free. Lyft cars will be standing by—no judgin'. Please join us for this casual festive gathering, reminiscent of great times, promoting the greater good. This event promises to rate as a unique throwback treat, where fresh memories are made and old friendships rekindled.
Tara Roth is President of the Goldhirsh Foundation, which invests in social innovation. Jordan Wallens is Regional Director of Halbert Hargrove, a wealth advisory firm. Peter Wilhelm is Founder and CEO of Novita Ventures, which advises companies in finance, operations and investments and provides trial consulting services.
Click here to buy tickets!!!
MORE ABOUT THE SCHOLARSHIP DINNER PROGRAM
"Thank you so much," wrote Roda Z. '17 a few months ago, thanking the Cornell Club for the scholarship money we provided. "I am forever indebted!" The Club receives a batch of letters like hers every year from L.A. students whose aid packages included money from CCLA. It chokes us up to read these heartfelt expressions, and motivates us to keep working hard to raise money to help local kids attend Cornell.
Did you know CCLA has a scholarship endowment of over $500,000? Two decades of fund-raising success, plus prudent investments, has enabled us to grow the endowment from scratch, while donating over $250,000 to Cornell to aid students like Roda Z. Last year, our gift of $30,000 helped support nine students.
The club's unique Scholarship Dinner and Event program is the vehicle. Alumni open their homes or invite club members to their favorite restaurant for an evening of fine dining and nostalgic camaraderie. Please join us at a table this fall!