Free Screening of "Human Again"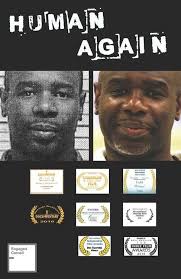 Human Again, a critically praised, award-winning documentary by Cornell University Professor Bruce Levitt, tells the story of a group of Auburn Correctional Facility inmates who have turned to theater as a way to become "a community of transformation."
The film, which has won 8 indie festival awards, will be screened for free on the Santa Monica College campus. It was shot by an all-student camera crew
After the screening (about 77 minutes) there will be a Q&A with director Bruce Levitt in The Loft, on the 3rd floor of Drescher Hall, adjacent to the Humanities & Social Sciences building.
This program is sponsored by the SMC Associates, SMC English Department, SMC Black Collegians, SMC Adelante Program, and SMC Film Studies Program.
Date: Thursday Oct. 12, 2017
Time: 11:15 am (please arrive early to guarantee getting a seat)
Location: Santa Monica College, 1900 Pico Blvd., Santa Monica 90405 - HSS 165
Cost: Free
Parking: Allow plenty of time if you plan to park on campus. Visitor parking for the main campus is available in Lot 6, located at 14th and Pico, for $10 per day. All students and visitors are expected to follow SMC's parking rules and regulations.
Thanks to SMC professor C. David Burak '67 & MFA '80 for inviting Cornell alumni to attend.