A Conversation with Production Designer Phil Messina '88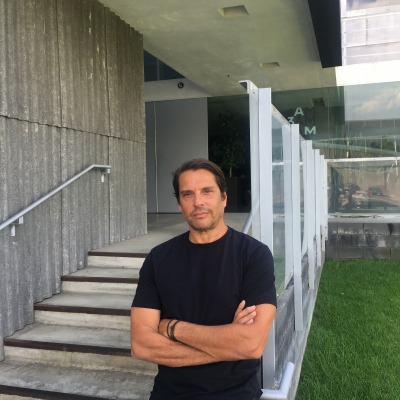 Cornell in Hollywood's fourth in a continuing series of talks with prominent Hollywood alumni – open to Cornellians working in Hollywood



Join us for an evening with Cornell alum Phil Messina '88, who has designed such films as "Erin Brockovich," "Traffic," "Ocean's Eleven" and its two sequels, all four "Hunger Games" films, "Free State of Jones" and "Mother!" (see full bio below) He will talk about his career and how he transitioned from the College of Architecture, Art, and Planning to Hollywood

.
Date: Friday, January 12, 2018
Time: 7:30 pm for wine and cheese; 7:45 pm talk
Location: Beverly Hills
Parking: Information will be provided
Cost: $10 per CCLA member working in Hollywood ($20 for a CCLA member + 1 guest). Please email Nancy Mills at NLM5@cornell.edu to arrange for payment.
FREE for classes of 2010 – 2017 + 1 guest - email Nancy Mills at NLM5@cornell.edu with your class year and Hollywood job to get your name on the list.
Here is a link to an interview with Messina: http://www.pushing-pixels.org/2016/04/25/production-design-of-the-hunger-games-interview-with-philip-messina.html .

PHILIP MESSINA BIOGRAPHY
Prior to designing Darren Aronofsky's Mother! Messina designed the museum installation for Alejandro Iñárritu's groundbreaking VR film Carne Y Arena. It opened to critical acclaim at the 2017 Cannes Film Festival and is currently on display at the Prada Museum in Milan, Los Angeles County Museum of Art and Centro Cultural de Tlatelolco in Mexico City.
Other film projects include the Civil War drama, The Free State of Jones, directed by Gary Ross. This marked his second collaboration with Ross after the first installment of The Hunger Games. He went on to design the entirety of the franchise, Catching Fire, and Mockingjay Parts 1 & 2, with director Francis Lawrence. In 2013 he was nominated for a Saturn Award for his design of Catching Fire. In 2011, Messina designed Marc Forster's Machine Gun Preacher. Prior to that Messina worked with M. Night Shyamalan to create the fantasy adventure The Last Airbender.
He has also frequently collaborated with director Steven Soderbergh, designing Ocean's Eleven, Twelve and Thirteen as well as The Good German, Eros, Solaris, Traffic and Erin Brockovich. They first met when Messina worked as the art director on Out of Sight. Ocean's Eleven garnered Messina an Art Director's Guild nomination for Outstanding Production Design in a Contemporary Film.
Additional design credits include Curtis Hanson's acclaimed drama 8 Mile starring Eminem and Gregory Jacob's directorial debut: Criminal.
Born and raised in Lawrence, Massachusetts, Messina graduated from Cornell University with a professional degree in architecture and was awarded the Architecture College's highest honor for his undergraduate thesis. His initial foray into films was as a set designer on Mermaids, School Ties and Housesitter - which were all filmed in the Boston area. Relocating to Los Angeles, he went on to serve as the art director on such films as Hard Target, The Neon Bible, Reckless, The Associate, Trial and Error and The Sixth Sense. For television, Messina was the production designer on the pilot episode of the critically acclaimed series Freaks and Geeks created by Paul Feig and executive produced by Judd Apatow.
Messina is married to designer Kristen Toscano Messina, with whom he frequently collaborates. One such collaboration resulted in their son Luca.