"RBG" Celebrates Cornell Alum/Supreme Court Justice Ruth Bader Ginsburg '54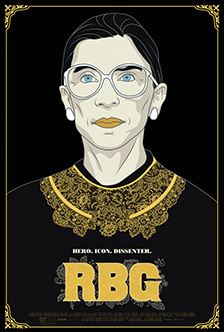 For the past 25 years,

Supreme Court Justice Ruth Bader

Ginsburg '54 has persistently sought to ensure equal rights and opportunities for those who are least powerful in our society. Now it's our turn to celebrate her contributions — and to let them inspire our own efforts.
On Thursday, May 3, "RBG," the new, critically-acclaimed documentary chronicling the exceptional life and career of Justice Ginsburg, will debut in select theaters across the country. "
RBG" is playing here in LA at the Landmark Theaters .
From the Landmark website:
At the age of 84, U.S. Supreme Court Justice Ruth Bader Ginsburg has developed a breathtaking legal legacy while becoming an unexpected pop culture icon. But without a definitive Ginsburg biography, the unique personal journey of this diminutive, quiet warrior's rise to the nation's highest court has been largely unknown, even to some of her biggest fans—until now. "RBG" is a revelatory documentary exploring Ginsburg's exceptional life and career from award-winning filmmakers Betsy West and Julie Cohen. Includes appearances by Gloria Steinem, NPR's Nina Totenberg, Bill Clinton, Lily Ledbetter, Ted Olson, Senator Orrin Hatch, Judge Harry Edwards, Eugene Scalia, authors Irin Carmon and Shana Knizhnik, and her children Jane and James.
Book tickets & view the latest movie showtimes for RBG at Landmark Theatres The Landmark,CA