BREAKFAST WITH THE CHAMPIONS!
BRUNCH AND SITE TOUR: THE LA LAKERS TRAINING CENTER AND HEADQUARTERS

-

Sold Out
Scholarship Fundraising Event!
Date: Sunday, August 26, 2018, 10:30 am-1:00 pm
Hosts: Gaye Tomlinson '05 and Los Angeles Lakers
Location: UCLA Health Training Center, the home of LA Lakers
Donation: $75 per person (ages 8 and up)
Limit: space is limited - sign up now by clicking button below! Join the waitlist by emailing Nancy Mills at NLM5@cornell.edu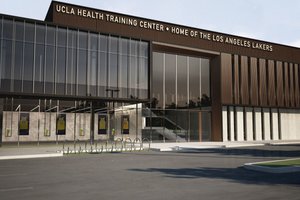 What do LeBron James, Magic Johnson and Kobe Bryant have in common? They are all LA Laker legends! And what could be more fun and exciting than having brunch at the VIP suite of the Lakers' headquarters and training center overlooking the very court where LeBron will be training—as well as the legends-in-the-making: Lonzo Ball, Kyle Kuzma and Brandon Ingram!
LA Laker fans, sports lovers and everyone in between: Join us at this one-of-a-kind event at the Los Angeles Lakers' brand new state-of-the-art facility in El Segundo to:
Have a delicious brunch of mimosas, croissants, egg sandwiches, pastries, fruit and many more selections, including vegetarian options
Hear great stories and the history of the LA Lakers from their Executive Director of Corporate Relations, Blain Skinner, a 35-year-plus veteran of the Lakers
Tour the facility with Blain and his team, where you will see the offices of Jeannie Buss (CEO), Magic Johnson (President) and Luke Walton (Head Coach) as well as the championship rings and trophies
Get your picture taken with a Lakers Championship Trophy
And maybe even watch some of the Laker players practicing on the court while you sipping your mimosas!
MORE ABOUT THE CCLA SCHOLARSHIP DINNER PROGRAM
How can you simultaneously have a wonderful meal, meet new Cornellians and help provide much-needed scholarships for deserving Los Angeles Cornell students? The Club's annual series of Scholarship Dinners & Events offers you a chance to have a great time while benefiting CCLA's Scholarship Endowment.
Over the past 25 years, scholarship dinners have been CCLA's principal means of building our Scholarship Endowment. Our donations from this fund to help Los Angeles-area Cornell students over the years have totaled $265,000, all thanks to our dedicated alumni who attend these events. The University uses our annual donation to supplement the financial aid needs of about a dozen students from L.A.
Note that 100 percent of all donations are going to the Endowment and your tax adviser can explain how your contribution may be deductible.