Robinson Gardens and Estate Tour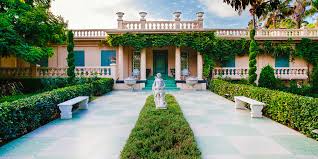 Date: Saturday, Oct. 20, 12:15 pm
Host: Jackie Kassorla MPS '77
Donation: $65 per person
Limit: 15 guests
The CCLA Scholarship Endowment, in partnership with Cornell alumna Jackie Kassorla, CEO and Founder of Eden Green Living LLC, has arranged for a private docent tour of the magnificent period landscape, historic mansion and botanical gardens located at the Virginia Robinson Estate in Beverly Hills. Listed in 1978 on the National Register of Historic Places, the Virginia Robinson Gardens is the earliest estate in Beverly Hills. It is a unique historic estate built in 1911 for retail giants Virginia and Harry Robinson (of the Robinson department stores). Located behind the iconic Beverly Hills Hotel, the beautiful six-acre property contains a breathtaking display garden, mansion and pool pavilion.
The 90-minute tour will take you through five distinctive gardens, main house and pool pavilion. The gardens range in style and plant type from Italian Renaissance Mediterranean to Tropical Oceanea and includes The Tropical Palm Garden, a grove of King Palms (Archontophoenix Cunninghamiana) which is reportedly the largest in the continental United States. A docent will be available to answer any questions you may have throughout the duration of the tour.
MORE ABOUT THE CCLA SCHOLARSHIP DINNER PROGRAM
How can you simultaneously have a wonderful meal, meet new Cornellians and help provide much-needed scholarships for deserving Los Angeles Cornell students? The Club's annual series of Scholarship Dinners & Events offers you a chance to have a great time while benefiting CCLA's Scholarship Endowment.
Over the past 25 years, scholarship dinners have been CCLA's principal means of building our Scholarship Endowment. Our donations from this fund to help Los Angeles-area Cornell students over the years have totaled $265,000, all thanks to our dedicated alumni who attend these events. The University uses our annual donation to supplement the financial aid needs of about a dozen students from L.A.
Note that 100 percent of all donations are going to the Endowment and your tax adviser can explain how your contribution may be deductible.