Free Classic Movie Screening - "A Face in the Crowd" (1957)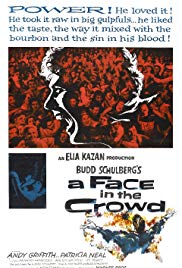 Andy Griffith, Patricia Neal & Walter Matthau star in this drama directed by Elia Kazan. Script by Budd Schulberg.
The film examines the power of television at its start as a hobo is discovered and catapulted into national influence. Strikingly familiar as the true media age begins. Connect the dots.
Screening/discussion led by Vivian Rosenberg Arts '67, Film Instructor at Santa Monica College. Hope you can join us!
Date: Thursday, March 28, 2019
Time: 2 pm
Location: Santa Monica Library, 1704 Montana Ave, Santa Monica
Cost: Free and open to the public