Persian Night in West L.A.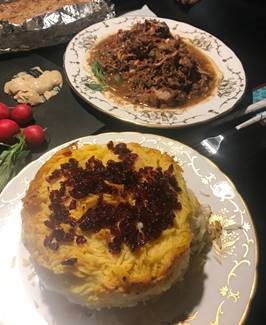 Date:
Saturday, Oct. 12, 2019, 6:30 pm
Hosts:
Siavash Dejgosha and Christine Lam
Donation
: $75 per person
Limit:
12 guests
Siavash Dejgosha took part in the Hotel School culinary arts class back at Cornell, but decided to put his Engineering Physics B.S. and Computer Science M.Eng. to use. He worked first at a tech startup in Los Angeles, before going to NYC to work in finance as a programmer at Goldman Sachs and Royal Bank of Scotland, now he's back in LA working in ads at Google. He's active in the L.A. Iranian community, an avid traveler, and remains an ardent cook. His dinner, co-hosted by Cornell classmate Christine Lam, now an Internist in Los Angeles, after teaching math for the NYC Department of Education. Her culinary interests started young through her grandmother who owned a restaurant in Bangkok, and has developed throughout the years. This dinner will include Persian stews, dessert, wine, and some exotic appetizers. Dishes will include lamb shank stew "baghali polo ba mahiche", eggplant stew "khoresh bademjan" (vegetarian), and saffron rice pudding "sholeh zard.
MORE ABOUT THE CCLA SCHOLARSHIP DINNER PROGRAM
How can you simultaneously have a wonderful meal, meet new Cornellians and help provide much-needed scholarships for deserving Los Angeles Cornell students? The Club's annual series of Scholarship Dinners & Events offers you a chance to have a great time while benefiting CCLA's Scholarship Endowment.
Over the past 25 years, scholarship dinners have been CCLA's principal means of building our Scholarship Endowment. Our donations from this fund to help Los Angeles-area Cornell students over the years have totaled more than $300,000, all thanks to our dedicated alumni who attend these events. The University uses our annual donation to supplement the financial aid needs of about a dozen students from L.A.
Note that 100 percent of all donations are going to the Endowment and your tax adviser can explain how your contribution may be deductible.