Mother's Day Brunch at Magic Castle/Postponed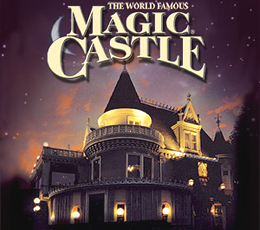 Adults and children of all ages welcome!
Join us for brunch and magic shows at the Magic Castle looming over Hollywood, the world's most famous nightclub for magicians and their guests and home to The Academy of Magical Arts, Inc.
Full brunch comes with bottomless champagne or mimosas, coffee, juices, teas, sodas. Tickets for the 1:30pm main stage Palace of Mystery show and entrance to the numerous smaller stages for close-up magic and special performances included.
Jeffrey Cowan '86, CCLA Board Member At Large, is our member connection. He is a former professional magician turned trial lawyer who used to headline at the Castle while "performing" his way through law school.
THIS EVENT WILL SELL OUT! RSVP by May 1, 2020 at 4:00pm.
Date: Sunday, May 10, 2020 - Mother's Day
Time: 10:00am - 3:00pm. Doors open at 10:00am. Our brunch time is 12:00 noon. Palace of Mystery tickets at 1:30pm. Doors close at 3:00pm.
Location: 7001 Franklin Ave., Hollywood, CA 90028
Parking: Valet Parking required - $15 per vehicle
Cost: $85 per CCLA member and each guest (ages 14 and over - CCLA members can bring up to 5 adult guests (Magic Castle considers adults 14 and over- sorry) and unlimited children at the CCLA rate); $65 for children ages 11-13; $50 for children ages 6-10; Children under 5 - Free. $95 for non-members. Price includes brunch, entrance fee, shows, taxes and tip.
RSVP: click below to buy tickets. RSVP by May 1, 2020 at 4:00pm. Returned tickets will be subject to a $10 per ticket service charge. No refunds after May 1.
More info: Strict dress code - no denim, t-shirts, shorts, sandals or flip-flops. Dress casual. Jacket and tie optional. (Clean sneakers are allowed for kids.)
Questions: Kim Bixler at kimbixler@earthlink.net 310-560-0444