Gottlieb Native Garden Tour - Postponed
Date: Saturday, April 11, 2020, 4 pm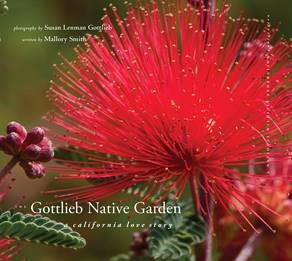 Host: Jackie Kassorla
Location: Beverly Hills (directions will be sent to those signing up)
Donation: $75 per person
Limit: 20 guests
The CCLA Scholarship Fund, in partnership with Jackie Kassorla, CEO and Founder of Eden Green Living LLC, has arranged for another private tour of the magnificent Gottlieb Native Garden as all of its wildlife is beautifully in spring bloom. The garden is located just a couple of miles from Rodeo Drive in the heart of Beverly Hills. Enjoy wine and hors d'oeuvres after you tour Susan and Dan Gottlieb's garden, which inhabits a flourishing ecosystem with more than 200 hand-selected native plant species and nearly 400 documented wildlife species. It has the national distinction of being both a National Wildlife Federation certified Backyard Wildlife Habitat and a Xerces Society designated Pollinator Habitat. In addition, the garden is one of the crown jewels of the annual Theodore Payne Foundation native Plant Garden Tour. Embodying Susan's and Dan's shared passion for the Southern California landscape-including all of the plants and animals that call it home-the Gottlieb Native Garden is their love story dedication to the state's subtler natural beauties and astounding biodiversity. This 90-minute event includes a personal tour of the garden by its founder, Susan Gottlieb, who will answer any questions you may have during the duration of your stay.
***Please make sure that you wear comfortable walking shoes if you are attending this event***
MORE ABOUT THE CCLA SCHOLARSHIP DINNER PROGRAM




How can you simultaneously have a wonderful meal, meet new Cornellians and help provide much-needed scholarships for deserving Los Angeles Cornell students? The Club's annual series of Scholarship Dinners & Events offers you a chance to have a great time while benefiting CCLA's Scholarship Endowment.
Over the past 25 years, scholarship dinners have been CCLA's principal means of building our Scholarship Endowment. Our donations from this fund to help Los Angeles-area Cornell students over the years have totaled over $300,000, all thanks to our dedicated alumni who attend these events. The University uses our annual donation to supplement the financial aid needs of about a dozen students from L.A.
Note that 100 percent of all donations are going to the Endowment and your tax adviser can explain how your contribution may be deductible.