Behind the scenes at NYC museums
with Cornell alumni
The College of Human Ecology, the Johnson Museum of Art, and the Northeast Corridor Office of Alumni Affairs and Development invites you to discover

Behind the Scenes at NYC museums with Cornell Alumni
Webinar: Monday, June 29, 2020
4:30–5:45 p.m. Pacific Time

Have you ever wondered what goes into curating and designing an exhibition? Curious how art travels safely to shows around the world? What is involved in bringing new works into a museum? How have museums developed new and expanded audiences during these unusual times?
You'll learn how these museum specialists have adapted their work during the pandemic and what their work will entail when NYC museums re-open.

Join moderator Jessica Levin Martinez, the Richard J. Schwartz Director of the Herbert F. Johnson Museum of Art at Cornell and expert Cornell alumni from The Metropolitan Museum of Art and Whitney Museum of American Art for this exclusive behind the scenes presentation.


Sarah Humphreville AAP & A&S '09
Senior Curational Assistant @The Whitney Museum of American Art
Sarah Humphreville is a Senior Curatorial Assistant at the Whitney Museum of American Art. Sarah has worked on the exhibitions Vida Americana: Mexican Muralists Remake American Art, 1925–1945, Agnes Pelton: Desert Transcendentalist, Grant Wood: American Gothic and Other Fables, Stuart Davis: In Full Swing, and Robert Indiana: Beyond LOVE, and was a curation intern for the exhibition Hopper Drawing. She also works with the museum's Drawing and Print Committee and American Fellows patron group. Sarah holds an M.A. from the Institute of Fine Arts at New York University, for which she completed a thesis on Edward Hopper and Dan Flavin. She received a B.A., summa cum laude, in art history, and a B.F.A. in painting with a minor in drawing from Cornell University. She received the Charles Goodwin Sands Memorial Medal for her fine arts thesis, was inducted into Phi Beta Kappa, and was the Degree Marshal for B.F.A. recipients. Sarah also worked at the Jewish Museum, MOMA, and NY&CA galleries.

Dan Kershaw (DEA) HumEc '78
Exhibition Design Manager @The Metropolitan Museum of Art
Dan Kershaw came to work at the Metropolitan Museum of Art as an exhibition designer in 1989. His designs include galleries for American Paintings and Sculpture, Oceania, Early Medieval, Byzantium, and Native America, and exhibitions of Renaissance Portraits, Rauschenberg Combines, Art of the Samurai, Seurat, and Play It Loud: Instruments of Rock & Roll. Dan was born in NYC. Prior to his work in museums, he apprenticed himself to cabinetmaker and luthier Ake Tugel, taught art on the Navajo Reservation, studied industrial design and environmental analysis at Carnegie-Mellon and Cornell Universities. After graduation, he went to work for legendary furniture designer George Nelson, and spent five years with Saatchi & Saatchi.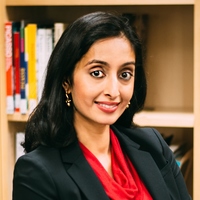 Brinda Kumar MA '10, PhD '15
Assistant Curator, Modern and Contemporary Art @The Metropolitan Museum of Art
Brinda Kumar is an Assistant Curator in the department of Modern and Contemporary Art at The Metropolitan Museum of Art, New York. Exhibitions she has worked on include Nasreen Mohamedi (2016), Unfinished: Thoughts Left Visible (2016), Like Life: Sculpture, Color, and the Body, 1300-Now (2018) and Home Is a Foreign Place: Recent Acquisitions in Context (2019). Most recently she co-curated the exhibition Gerhard Richter: Painting After All (2020) and wrote for its catalogue. She completed her BFA at the College of Art, New Delhi; MA at the School of Arts and Aesthetics, Jawaharlal Nehru University, New Delhi; and received an MA and PhD from Cornell University. Her dissertation at Cornell University focused the history of collecting Indian art in America in the twentieth century, and she has published articles on Okakura Kakuzo and Ananda Coomaraswamy from her doctoral research.
Cornell University, Division of Alumni Affairs and Development
230 Park Avenue, Suite 1510
New York, NY 10169