West Coast, What's Up?
The West Coast Alumni Affairs & Development team introduces West Coast, What's Up? Through this digest, we will share programs designed to inform and engage our Cornell community of alumni, friends, and parents—from Seattle to San Diego.
We will spotlight amazing alumni and feature Cornell research. In this first installment, we showcase great events planned for fall. Learn more about any of our programs, all free, below. Watch for more; the digest will be regularly shared. Start registering today!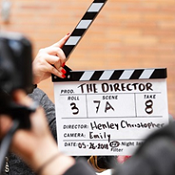 Cornellians in our Community: The Changing Face of the Entertainment Industry
10/21/20, 7:00 – 8:15 p.m. PDT
At a time when people are consuming content at unprecedented rates, hear from television and film industry experts on adapting storytelling to fit consumer needs.