Screening and Q&A: Haunting of the Mary Celeste
BIG RED FILMS
HOLLYWOOD AGENT, PRODUCER, FINANCIER
BRIAN DREYFUSS '91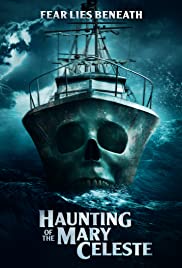 Join Brian Dreyfuss '91 and his father, Norman Dreyfuss, for a screening and Q&A of their latest co-produced and co-financed project HAUNTING OF THE MARY CELESTE starring Emily Swallow (Mandalorian/Supernatural) and Richard Roundtree (Shaft) who set out to prove that the disappearance of a family and crew from a shipping vessel was supernatural. Poltergeist on a boat!
Q&A will be an insider look at the behind the scenes of producing a movie. Learn why this movie was 9 years in the making.
Brian has represented the filmmakers behind and/or packaged distributor-released feature
films including BRICK (Focus Features) UNDER THE SAME MOON (aka "La Misma Luna) (Fox
Searchlight 2008), THE BROTHERS BLOOM (Summit 2009), RED (Magnolia Pictures 2009),
SEEKING JUSTICE (Anchor Bay 2012), LOOPER (Sony/Film District 2012), and FREE RIDE (eOneFilms 2014).
Norman Dreyfuss has produced and provided financing for films including BRICK, RED, UNDER THE SAME MOON and FREE RIDE.
If you can't join for the free screening rent or purchase on demand via all cable systems or digital platforms (Apple TV, Amazon, etc), and join for the Q&A.
Date: November 1, 2020
Time: Screening 5:00 pm PST (run time is 74 min including end credits)
Q&A: 6:30 pm PST
Location: Your home, your couch, your laptop, your phone (via Zoom)
Cost: Free for CCLA members (need not be a Cornell alum to join CCLA); Free for Cornell West Coast Club members; $10 for non-members