A Night of Oscars - Scholarship Dinner Event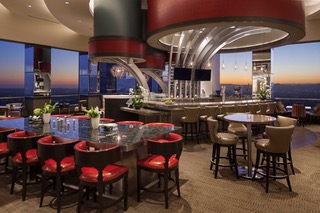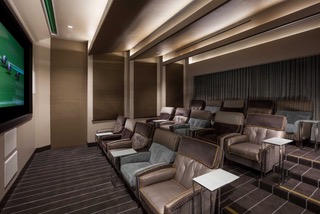 Date: Thursday, March 9, 2023
Time: 5:30 pm drinks at the lounge, 7:00 pm dinner and movie screening at the screening room
Movie: Everything Everywhere All At Once (2022): Incredible acting, stunning visuals, and a really deep, powerful story -- Everything Everywhere All at Once has it all (from Rotten Tomatoes).
Location: The City Club, 555 Flower St 51st Floor, Los Angeles, CA 90071
As the 95th Academy Awards are approaching, celebrate A Night of Oscars at the exclusive City Club. This members-only venue is available to our alumni, courtesy of our hosts Gaye (JGSM '05) and Geoff Tomlinson. They created a fun and posh evening complete with drinks, dinner and a 2023 Oscar nominated movie screening at City Club's screening room. We also thank our co-sponsors Richard Stern ('79), Ellen Perlmutter ('74) and Neresa De Biasi ('11) for their contributions to make this wonderful night happen.
Our guests will be initially greeted at the lounge area for their first drinks. We will get to know each other while we enjoy the beautiful LA views from the 51st floor. Then we will get seated at the screening room to have our dinner and more drinks while watching the movie. One of our Cornell in Hollywood committee members will be at hand to talk about the Oscars history as well as some tidbits on the movie we will screen.
It will be great fun for a great cause. Hope to see you there!
More information about the event, directions and parking will be provided to the registered guests two days before the event.
About Scholarship Endowment Fund:
How can you simultaneously have a wonderful meal, meet new Cornellians and help provide much-needed scholarships for deserving Los Angeles Cornell students? The Club's annual series of Scholarship Dinners & Events offers you a chance to have a great time while benefiting CCLA's Scholarship Endowment.

For almost 30 years, scholarship dinners have been CCLA's principal means of building our Scholarship Endowment. Our donations from this fund to help Los Angeles-area Cornell students over the years have totaled more than $300,000, all thanks to our dedicated alumni who attend these events. The University uses our annual donation to supplement the financial aid needs of about a dozen students from L.A. Note that 100 percent of net donations are going to the Endowment and your tax adviser can explain how your contribution may be deductible.

Space is limited, so sign up soon!

Cost: includes (2) drinks, dinner, dessert, popcorn, movie screening and valet parking.
$135 per person for CCLA Members (members can purchase one additional guest ticket at the member price)
$160 per person for non-members
You are not a member or need to renew your membership? It is only $35 and you get discounted tickets while connecting with local alumni and supporting CCLA.
Join/ renew here.
Contact:
For questions about the event please email Gaye Tomlinson (gaye.tomlinson@gmail.com)