Corteo by Cirque Du Soleil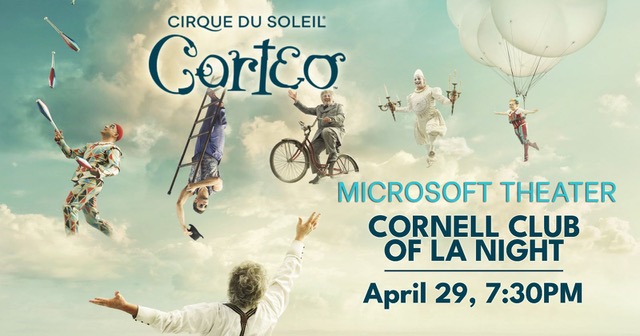 Date: Saturday, April 29, 2023
Time: 7:30 p.m.
Location: Microsoft Theatre, 777 Chick Hearn Ct, Los Angeles, CA 90015
CCLA is going to circus! Join us at Cirque du Soleil's latest and highly anticipated show, Corteo!
Corteo, which means "cortege" or procession in Italian, is a joyous, festive parade imagined by a clown. The show brings together the passion of the actor with the grace and power of the acrobat to plunge the audience into a theatrical world of fun, comedy, and spontaneity situated in a mysterious space between heaven and earth. See the trailer here: https://www.youtube.com/watch?v=rl9BvHn5Gr8
There will be a talk by the director and the cast before or after the show if we can hit a certain number of tickets. So, we hope you can join us to show your support for CCLA and enjoy the unique opportunity to hear from the creators of the show directly!
Space is limited, so sign up soon!

Cost:
$90 per person for CCLA Members + purchase (1) additional guest ticket for Orchestra Seating
(about 25% less than retail price)
$100 per person for non-members

Orchestra Seating
(about 15% less than the retail price)
Contact:
For questions about the event please email Gaye Tomlinson, (gaye.tomlinson@gmail.com)